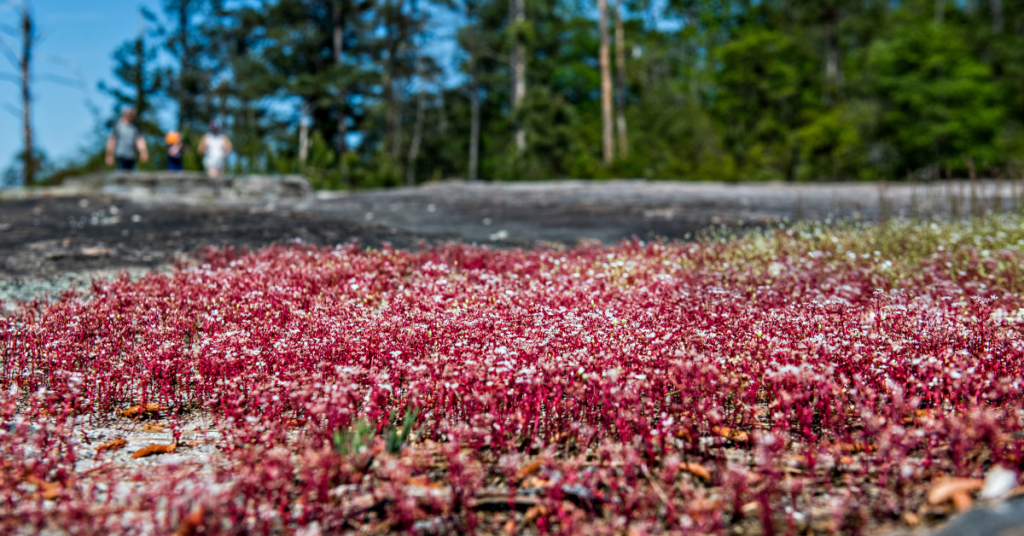 The DeKalb Difference Blog
Celebrating World Nature Conservation Day at Arabia Mountain National Heritage Area
Preserving Natural Wonders at Arabia Mountain
For World Nature Conservation Day, we explore Arabia Mountain National Heritage Area, a natural treasure nestled in the heart of DeKalb County. Spanning 40,000 acres, this protected area is home to powerful historic sites, breathtaking greenspaces, and two massive granite outcrops known as Monadnocks that took over 400 million years to take shape.
A Place of National Importance
National Heritage Areas are unique locations where historical, cultural, and natural riches come together to create interconnected and nationally significant landscapes. Unlike national parks, these areas are expansive and inhabited, fostering a close relationship with local communities.
Arabia Mountain is the 49th designated National Heritage Area among the 62 national heritage areas across the United States, with three of them located right here in Georgia. It stands as a symbol of Georgia's commitment to preserving its rich heritage and unique landscapes for future generations to enjoy.
The Arabia Mountain National Heritage Area is a testament to the collaborative efforts of the Department of Interior and Congress, who have provided essential funding for its conservation and upkeep. Furthermore, this conservation area would not be possible without the support of volunteers and donors who dedicate their time and resources to protect its natural beauty.
The Magnificent Monadnock
One of the defining features of Arabia Mountain is its stunning geological formation known as a Monadnock. These isolated, rocky mountains resist erosion and stand out amidst the surrounding landscapes, making them captivating natural phenomena. This Monadnock is what gives Arabia Mountain its distinctive appearance and character.
A Floral Haven of Endemic Species
On Arabia Mountain's surfaces, one can find plants that grow nowhere else on earth. One such exclusive resident is the red diamorpha flower, a rare and striking bloom that adds to the area's ecological significance.
In fact, when exploring the vast expanses of the monadnocks, it's essential to be mindful of the fragile solution pits that hold an array of plant species. By treading carefully and respecting these unique habitats, we contribute to the preservation of this precious biodiversity.
The Intersection of Nature and Culture
Arabia Mountain National Heritage Area is more than just a geological marvel; it is a place where nature and culture intersect. The trails that wind through the area are not only a gateway for exploring the diverse ecosystems but also serve as a gathering point for the community. The Arabia Mountain PATH is a 33+ mile paved trail that connects the National Heritage Area to DeKalb, Rockdale and Henry counties. The trail is a popular way people connect with the natural wonders of the area while exploring the various sites scattered throughout the area, including the nearby Monastery of the Holy Spirit, a 10-minute drive away.
DeKalb's Last Dairy Farm
A significant historical site within Arabia Mountain is the Vaughters Barn. It stands as a reminder of DeKalb County's agricultural past, a time when the area was once known as the dairy capital of Georgia. The barn belonged to Silvey Brice "S. B." Vaughters, who dedicated his life to farming and tending to livestock on this very land.
In the face of urbanization and encroaching development, Vaughters chose to preserve the meadow and his cherished barn by selling the property to the State of Georgia in 2002. His vision was to prevent further disappearance of open land amidst the growing urban sprawl, and his dream has become a reality. Today, the iconic white barn stands as a symbol and reminder of a different way of life, looking over the PATH as a testament to the county's rich agricultural heritage.
From Quarry to Conservation
The history of Arabia Mountain adds another layer of significance to this already captivating place. Once a quarry, it played a crucial role in shaping the growth of Atlanta by providing granite curbs that still dot the region. However, with the changing times, the focus shifted from extraction to conservation, and today, this former quarry represents environmental preservation and appreciation.
Green Attraction
Committed to the growth and prosperity of DeKalb County, Decide DeKalb aims to foster an environment where residents can live, work, and innovate, making the area a thriving hub of opportunity and creativity.
The unique landscape at Arabia Mountain is one of the many reasons people are attracted to live, work and play in DeKalb County. The landmark, with its rare plants, geological wonders, and resilient spirit, reminds us of the beauty and importance of our natural heritage. By preserving such natural marvels, we ensure that future generations can also marvel at the wonders of the natural world and find inspiration to continue to create a Better Earth.
For more information about relocating to the DeKalb County and the amenities in our community, please contact us.
For more information about Arabia Mountain including tours, please contact the incredible staff and rangers at Arabia Mountain National Heritage Area here and find them on Facebook, Instagram, Twitter, and YouTube and Yelp.