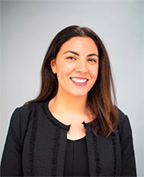 Randi Mason welcomed as new VP of Economic Development
Decide DeKalb, the county's economic development engine, announced today that Randi Mason has joined the team as Vice President of Economic Development. Mason will work to attract, retain and support businesses in DeKalb's target industries and beyond.
In this role, Mason will be focusing her efforts in the advanced manufacturing, healthcare/life sciences, logistics and corporate operations sectors while supporting DeKalb's blooming small business ecosystem through program development. Additionally, Mason will represent Decide DeKalb on multiple economic development councils and boards within the metro area.
"We're very pleased to have Randi join the Decide DeKalb team," said Dorian DeBarr, Interim President. "Her dedicated nature along with a results-oriented mindset make her critical to our success. With an extensive background in all facets of economic development she'll certainly further solidify her well-regarded status."
Prior to joining Decide DeKalb, Mason oversaw the business attraction efforts at Invest Atlanta having spent six years with the organization. During her tenure she was involved in the attraction of Fortune 500s like Norfolk Southern and NCR as well as large operations for companies such as Starbucks, UPS and Salesforce. Prior to that, she worked as a Senior Business Development Manager within the DeKalb County office of Economic Development (precursor of Decide DeKalb). She also previously served as Project Manager of Business Engagement at the Atlanta Development Authority, Invest Atlanta's precursor. Mason holds a Master of Public Administration with a concentration in Management and Finance from the Andrew Young School of Policy Studies at Georgia State University and a BA in Political Science from UGA. She currently serves as a Board member of the Atlanta Sister Cities Foundation as well as holds active memberships with Georgia Economic Developers Association, International Economic Developers Council and the Urban Land Institute.